DINNER AND SERVEWARE
By Lola
BOWL
"For most cuisines of the world, the bowl is the primary vessel for eating," explains Matthew Weingarten, culinary director at Dig Inn.
E2 | Small Bowl | Ø 13cm x 6.5cm | Ø 5.1" x 2.5"
E3 | Medium Bowl | Ø 19cm x 9.3cm | Ø 7.5" x 3.7"
E4 | Large Bowl | Ø 26cm x 13cm | Ø10.2" x 5.1"
Hand Crafted in Barcelona, Spain

TUMBLER
Ø 9,5cm x 10cm | Ø 3.54" x 3.93"
Hand Crafted in Barcelona, Spain
PLATES
E5 | Mini Plate | Ø 13cm x 1.5cm | Ø 5.1" x 0.6"
E7 | Deep Plate | Ø 24 cm x 5cm | Ø 9.5" x 1.9"
Hand Crafted in Barcelona, Spain
DEEP PLATES
E7 | Deep Plate | Ø 24 cm x 5cm | Ø 9.5" x 1.9"
Hand Crafted in Barcelona, Spain
SERVEWARE
E10 | Large Serving Platter | Ø 40 cm | Ø 15.7"
E9 | Medium Serving Platter | Ø 34 cm | Ø 13.4"
Oversized Deep Serving Platter | Ø 38 cm | Ø 15"
Hand Crafted in Barcelona, Spain
PROCESS
Our materials and handmade processes result in natural variations from piece to piece, including irregularities in glaze colour, design, texture, and finish. These characteristics are in no way flaws, but only add to the one-of-a-kind beauty of our products. Each piece is carefully inspected to ensure that it lives up to our own high standards of quality as well as those our clients have come to expect from MUSA.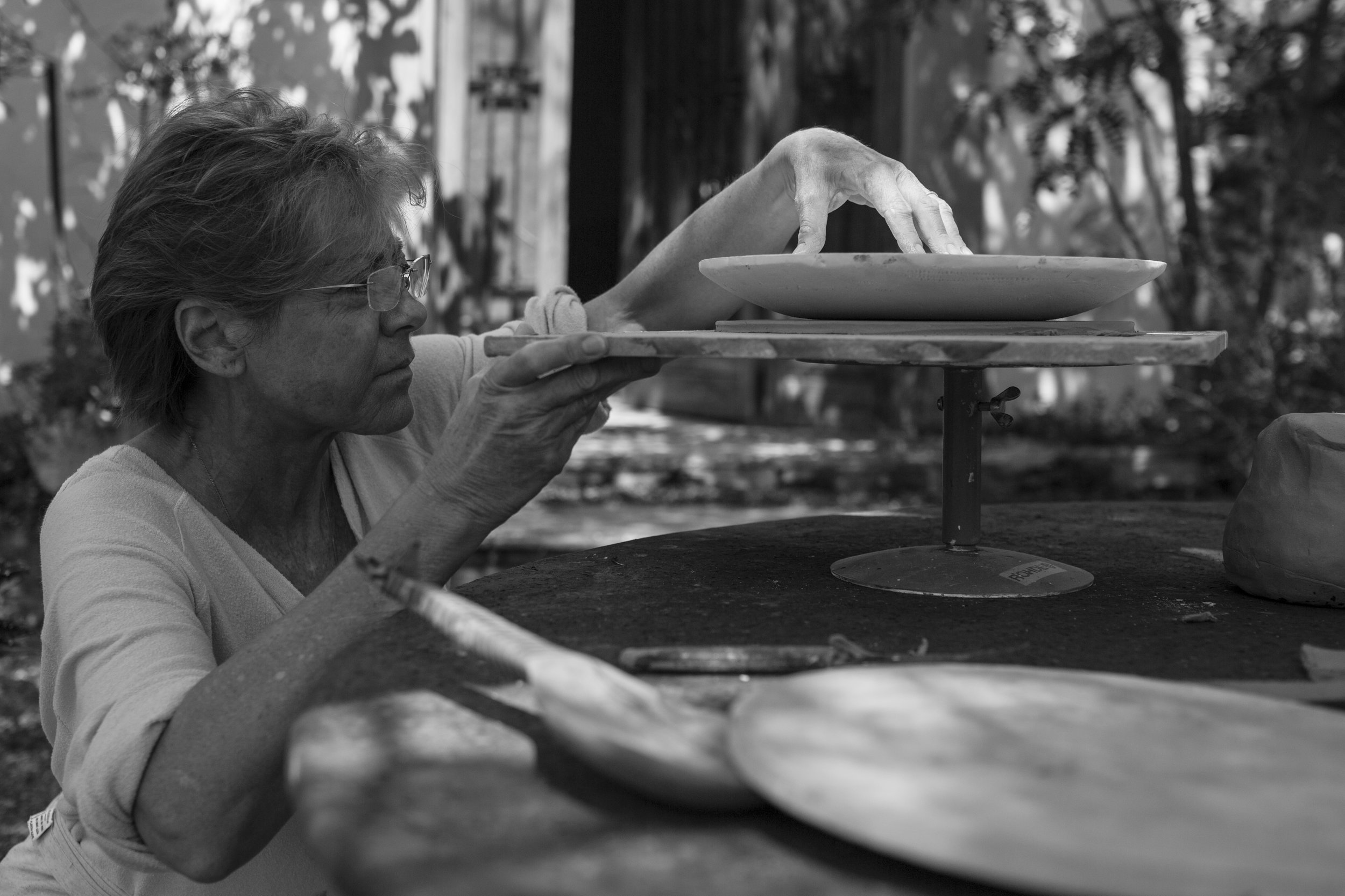 CARE
Every piece has been hand thrown and intended for everyday use. All of our ceramics are oven and dishwasher safe, though hand washing is recommended for larger pieces as it will help ensure the longevity of your handmade ceramic treasures.
Stoneware is a type of clay that is fired at extremely high temperatures (1200° Celsius) to produce a strong ceramic material . The bottom of each piece has been lightly polished to minimize potential damage to delicate surfaces. Over time the polished areas with smooth down even further. We recommend placing the tableware on placemats to avoid possible damage to the surface. To avoid scratches, never slide any piece across surfaces.
| GLAZE |
Some parts of this collection boast a gorgeous edge of thinner glaze, which can show oil stains when you start using it for the first time. With normal, continued use, the patina should evolve evenly, and, as it deepens, the colours will blend and become more uniform.

Staining can sometimes occur if acidic food is kept in the earthenware vessels for prolonged periods of time. It's best to remember that these pieces are intended for serving, not storage.

Over time, grey cutlery marks may develop. These can be removed with a magic eraser, or a solution of water and baking soda. These marks are not, in fact, dirt or debris; they are simply signs of normal wear on the pieces and add to its patina.
| DISHWASHER |
Do not use harsh scrub pads to clean your ceramics, as they may scratch the surface.

Avoid more acidic and abrasive detergents, which can cause unnecessary wear to the glazes. We recommend gentle, environmentally-friendly, detergents to maximize the life of your dishes.

Make sure no items touch inside the dishwasher or they may get chipped. To help prevent breakage, do not allow them to bump against one another or the top of the dishwasher during the washing cycle.

Place smaller items such as tumblers and small bowls on the upper rack.

Load carefully and spaciously. Our general rule is that if it doesn't fit safely, we will just start the washer and handwash the items that don't fit.

To avoid thermal shock, please allow items coming out of a hot dishwasher to fully cool before serving anything at a low temperature.


| OVEN |
These pieces can withstand extreme temperatures but they can only do so by heating and cooling slowly.

Never put a cold ceramic in a hot oven - always place ceramics into a cold oven, then bring them up to temperature, no higher than 200°Celsius. Do not preheat the oven. Avoid sudden temperature changes; thermal shock can cause pieces to crack or break.

Stonwear is a highly conductive material, so be very cautious when removing from the oven , as it will be very hot to the touch.

Always place very hot items onto either wood or cloth when removing from heat.